The consumption of specialty silica within the rubber industry is expected to be considerably high, finds Future Market Insights (FMI) in a new study. Despite sluggish growth registered in 2020 amid COVID-19, rubber will comprise 60% of specialty silica application in terms of volume in 2021. The specialty silica market's overall valuation in 2021 is expected to reach US$ 6.37 Bn in the same year.
Owing to growth of packaging, print & specialty coatings consumption specialty silica consumption has increased. Besides this, the demand from inks & coatings Industry also will buoy growth in upcoming years.  Other notable end uses of specialty silica include plastics, food & beverages, electrical & electronics components & insulation, personal care product additive, agricultural & feed, consumer products and others.
How the Historical and Future Outlook of Specialty Silica Market Match Up?Specialty silica is used as performance additive in various industries such as rubber and plastics. Inclination towards the use of specialty silica as a performance additives for producing green and energy efficient tires is a key growth driver. Increasing demand from automotive industry owing to its wide range of applications in tire manufacturing including filler material will continue aiding expansion.Use of specialty silica in tires as a performance additive reduces their rolling resistance and increases road grip in wet weather condition. Furthermore, tire labelling regulations have been being implemented across the globe, further adding the growth for specialty silica.

Leading manufacturers are focusing on developing technologically advanced specialty silica. For instance, Evonik Industries AG, one of the leading manufacturer of specialty silica has recently launch new specialty product Spherilex 145 for the oral care industry. These advancements by specialty silica market participants are expected to be crucial in boosting the demand for specialty silica over the forecast period. According to FMI's analysis, specialty silica sales is expected to rise at 4.8% CAGR between 2021 and 2031.

With ongoing crisis caused by the COVID-19 pandemic, manufacturing activities have declined. However, are expected to improve with the economic recovery with stabilization of the ongoing pandemic. COVID-19 pandemic has had serious repercussions at various levels on the global economy and on the specialty silica market.

The automotive industry, a key end user of synthetic silica had already reported reduced sales in 2019. COVID-19 outbreak has further impacted the growth of automotive industry, reducing the demand for specialty silica during the pandemic period. Moreover, disruption in supply chain, lack of raw material supply, government lockdowns, and shutdowns impacted the global specialty silica market adversely depleting the growth.
What is the Commercial Potential of Specialty Silica?Specialty silica is used in rubber, plastics, ink & coatings, electrical & electronic, agriculture & feed, food & beverages, and personal care industries among others.Specialty silica is mostly used in rubber, tires and footwear manufacturing, performance additives in tires & plastics, carrier agent in agriculture, chemical mechanical planarization (CMP) in electronics & electrical and others. Specialty silica have wide range of commercial usage and advantages over other materials which is expected to push the specialty silica market in upcoming future.
Key Takeaways of Specialty Silica Market Study
The global specialty silica market is anticipated to expand at a CAGR of ~4.8% by during the forecast period of 2021-2031
The U.S. is expected to account for nearly 80% sales in the North America market
Growth in U.K. is expected to recover 2021 onwards. FMI projects it to exhibit 4.7% Y-o-Y growth in 2021, after going downhill in 2020
Growth trends are expected to remain favorable in Germany and France too
Within East Asia China will emerge as a key market, exhibiting high growth. CAGR exhibited by Japan and South Korea as well is expected to remain positive through the forecast period
Demand for specialty silica is expected to grow at moderate rate owing to its increasing consumption in rubber application. Personal care is anticipated to witness highest growth amongst all other applications. East Asia is projected to hold prominent share followed by Europe and North America. China and Japan are the major target locations for supply of Specialty Silica for manufacturers. Specialty Silica market is fairly consolidated with small number of tier-1 players accounting for the major share.
Specialty Silica Market Category-wise Insights
Which Specialty Silica Type will be in High Demand?Precipitated silica dominated the global specialty silica market and is projected to continue its dominance over forecast period by exhibiting highest growth amongst other types. Growth recorded is attributed to the growing demand from various end use industries such as rubber, plastics, electrical & electronics, personal care, agricultural & feed and others.Precipitated silica finds its applications as a performance additive in rubber used in production of tire and footwear among others. It is an anti-caking and thickening agent in foods and pharmaceuticals, as a cleaning agent in toothpastes, and flow modifier and anti-foaming agent and others.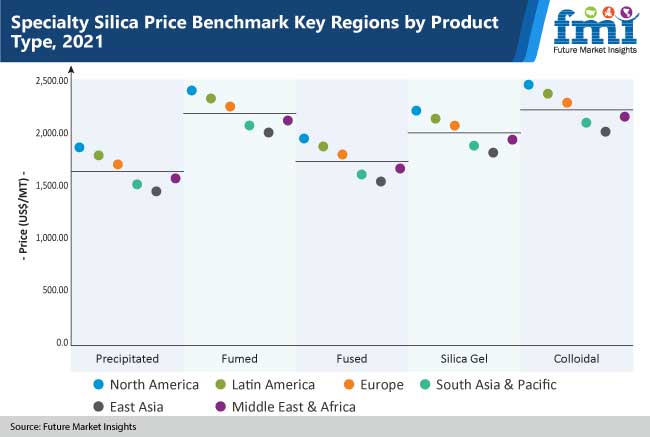 Who is Leading End User of Specialty Silica?Rubber industry is projected to dominate the global specialty silica market followed by plastics and inks & coatings. Personal care is expected to grow at highest rate owing to increasing consumer spending and increasing concern related to human health amongst the consumers especially in developing countries. Rubber is expected to create the highest opportunity for specialty silica as its falls under high share, high growth category.
Market Landscape to Remain Fairly Consolidated
Specialty silica market is understood to be fairly consolidated, with leading players included viz. Solvay SA, Huber Engineered Materials, Madhu Silica Pvt. Ltd, Evonik Industries AG and PPG Industries, Inc, Akzo Nobel NV, Cabot Corporation, Wacker Chemie AG, Nalco Holding Company, Qingdao Makall Group Inc and others account for the prominent share in the market. To gain competitive advantage in the market, market participants have been involving in production capacity expansions, merger, and acquisition activities with regards to consolidation of business footprint.
Specialty Silica Market by Category
By Product Type
Precipitated
Fumed
Fused
Silica Gel
Colloidal
By Application
Rubber
Plastic
Ink & Coatings
Electrical & Electronics
Agricultural & Feed
Food & Beverages
Personal Care
Others
By Region
North America
Latin America
Europe
East Asia
South Asia & Pacific
Middle East & Africa