Increasing demand from the construction and automotive industries for temperature control and energy efficiency is expected to fuel the demand for thermal insulation material. According to a new study by Future Market Insights (FMI), the market for thermal insulation material is set to rise steadily with a CAGR of over 4% through the end of the projection period in 2031.
The global demand for thermal insulation materials has rapidly gained traction owing to concerns associated with energy conservation. Strict government regulations associated with emissions from construction and automotive sector operations will drive long-term demand. In building operations, thermal insulation also provides benefits in supporting auxiliary building structures including roofs and flooring.
Niche applications in aerospace structures in addition to investments into smart city infrastructure are providing impetus to investments into product research & development, with a focus on material and design. End-user specific customization of product offerings on the basis of density, thermal conductivity, thickness and more will influence developments in the market for the foreseeable future.
The growing demand for thermal insulation materials, particularly from emerging economies will offer key growth opportunities. On the other hand, the volatility in the pricing of raw material will challenge the growth of market participants. Market vendors are more likely to focus on the growth prospects in the fast-growing segments, while consolidating their positions in relatively slower-moving products.
How Does Historic Performance of the Market Compare to Future Outlook?During the past five years between 2016 and 2020, the thermal insulation material market has displayed healthy growth with a CAGR of over 4.2%. Multinational manufacturers including Asahi Kasei Corporation, BASF SE, E. I. du Pont de Nemours and Company, have pushed substantially towards geographical expansion strategies, in addition to product development efforts with distribution efforts across the Asia Pacific region.

As per the Future Market Insights report, the covid-19 pandemic slowed down the short-term growth rate in the industry. However, the market is likely to witness steady recovery through 2021 with an estimated valuation surpassing US$ 54 Bn. Countries across the European Union will remain major contributors to growth in the near future. Stringent building and emission codes implemented in countries including Germany, UK and France will prove important to developments in the near future.
How are Green Building Developments Influencing Sales Prospects?Materials commonly utilized in the building and construction sector have accounted for a large amount of energy and natural resources. The concept of green buildings, which has gained traction in the last few decades, is widely viewed as a technical and management approach for the building and construction sectors to maintain energy and resource sustainability in the industry. As a result, the development and deployment of green construction materials plays a key role in green building developments owing to contributions of sustainable resources.

According to the Beijing Engineering Research Center, buildings will cause more than 40 billion tons of carbon emissions, consuming approximately a third of the global energy and water resources annually through 2030. Therefore, buildings have already had a notable impact on the environment. On the other hand, the production of construction materials will also contribute to 40% of all emissive pollution including black carbon. The number of commercial and institutional buildings in 2050 is expected to be three times that of 2010. The building and construction sector currently accounts for more than 60% and 40% of energy consumption in the United State (US) and the European Union (EU) respectively. Consequently, the adoption of green building standards and the use of sustainable thermal insulation materials will play key roles in bolstering energy and resource efficiency, driving long term demand.
Key Takeaways of Thermal insulation material Market Study
Thermal insulation material sales to increase at above 4% CAGR through the assessment period.
Backed by strong demand from the building and construction sector, insulation for 1ºC to 100ºC will hold the lead in 2021.
Continuing issues in terms of energy supplies in the U.K. and Germany markets to register higher growth.
United States is projected to record strong demand driven by rising applications in automotive sector.
China will emerge as a high potential market, with investments in urbanization and manufacturing efforts in the country.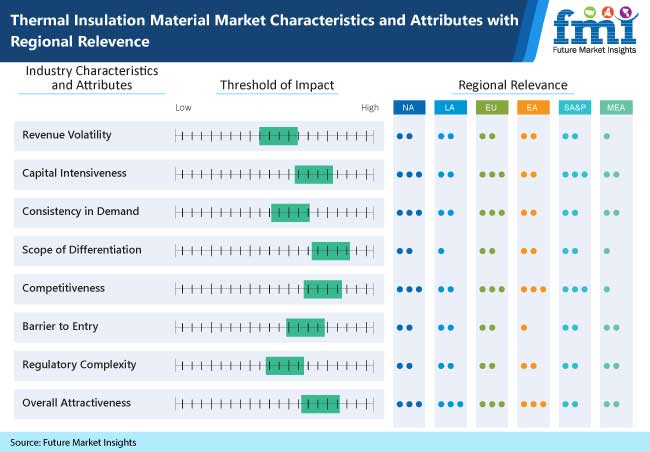 Developments in Green Construction Set to Drive Growth
According to FMI, thermal insulation material has immense scope for application in the building and construction industry owing to the increased focus in the sector on resource efficient and environment friendly materials. Also, there is a substantial growth in the construction of green buildings around the world owing to volatility in high energy prices, and concerns associated with environmental impact, along with the health and comfort of occupants. In addition, green building rating systems implemented in developed regions across Europe and North America such as the Leadership in Energy and Environmental Design, are contributing to growth.
Who is Winning?
The global thermal insulation material market can be considered as moderately consolidated, with a few leading players accounting for a prominent share of the overall thermal insulation material market. Manufacturers are increasingly focused on investments into research and development aimed towards new product launches.
Key market participants including BASF SE, Asahi Kasei Corporation, Rockwool International A/S, E. I. du Pont de Nemours and Company, Bayer AG, Berkshire Hathway (Johns Manville), Dow Chemicals Company, Owens Corning, Saint Gobain S.A., and Kingspan Group PLC amongst others are also focusing on consolidating their presence in the global market by entering into strategic industry collaborations with other market participants.
Key Segments
Material Type
Stone Wool
Fiber Glass
Plastic Foam
Others
Temperature Range
-160°C to -50°C
-49°C to 0°C
1°C to 100°C
101°C to 650°C
Region
North America (U.S. & Canada)
Latin America (Mexico, Brazil, Argentina, Chile, Peru, & Rest of LATAM)
Western Europe (Germany, U.K., France, Italy, Spain, BENELUX, Nordic, & Rest of W. Europe)
Eastern Europe (Russia, Poland, CIS Countries and Rest of E. Europe)
Middle East and Africa (GCC Countries, Turkey, South Africa, Israel, & Rest of MEA)
Japan
Asia Pacific excluding Japan (China, India, ASEAN, South Korea, Australia, & Rest of APEJ)