Future Market Insights in its market intelligence report on pharmaceutical solvents opines that the market's success continues to witness a sharp rise with high expenditure on healthcare, new drug delivery systems and medicines. According to FMI's analysis, the pharmaceuticals sector has witnessed 150% increase over the last decade.
Poised to surpass US$ 3.43 Bn by the end of 2030, the pharmaceutical solvents industry is betting on attaining a balance between pharmaceutical purity and the impact of solvent use in drugs on the users and the environment at large.
Efficacious supply chains which include recycling of solvents and remanufacturing will pave way for negligible impact on environment and greater product purity.
Stringency in RS Limits to Fuel Innovation
High spending within the pharmaceutical industry for novel medicines and drug delivery systems is enhancing the uptake of pharmaceutical solvents. These solvents are used as building blocks, excipients, or active substances at any step of the synthesis pathway or during the process of drug formulation.
The pharmaceutical industry is governed by stringent regulations surrounding the toxicity of solvents used. Thus, the Residual Solvents (RS) limits have been well established by regulatory agencies. For this reason, manufacturers are working feverishly to reduce the amounts of solvents used. Additionally, excess amounts are known to accelerate decomposition of the drug.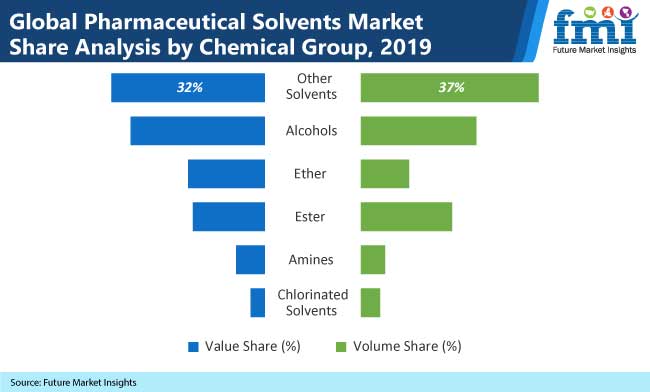 Within the market, organic solvents are gaining immense traction and are unquestionably better and are finding widespread usage in tablets production. Solvents such as methanol, acetone, ethanol and ethyl acetate are notably being used for high-quality tablet coatings.
Regionally, Europe and North America will witness the highest production of pharmaceutical solvents and are set to capture one-third of the volume share through 2020-2030
Solvent Recovery in Pharmaceuticals to Pave Way for Potential Savings
Pharmaceutical Market companies benefit commercially when they keep solvent recovery on-site instead of relying on a chemical processor to recover solvents. Others benefit by contracting incineration of solvents and obviating the expensive overheads in shipping off hazardous chemicals.
By capitalizing on solvent recovery on their own, pharmaceutical companies stand to improve their bottom line. Recovering of solvents on- premise also enables the company to exercise better quality control.
Recovery of solvents is usually done by sending them to a toll processor to clean and return. The other alternative is incineration but with incineration and recovery and return, the company also runs the risk of increasing its carbon footprint.
Thus companies are now recognizing the importance of solvent recovery designs that use a combination of extraction and distillation columns. These have shown to significantly reduce operating expenses by at least 15%-20%.
Key Takeaways of Pharmaceutical Solvents Market Study
Alcohol solvents will remain sought-after through 2030 with high uptake in the production of sanitizers amidst the COVID-19 crisis
The race for new vaccine development is creating prolific opportunities for market players in the near-term
Acetone, glycerin and chelating agents will capture one-third market share in 2020 with growth underpinned by high demand for  these in hygiene products and sanitizers
The soaring popularity of green solvents is set to improve process yields and lower operational costs of manufacturers in the pharmaceutical solvent landscape
Asia Pacific Continues to Gain Momentum
The biggest pharmaceutical companies such as Merck, Novartis, Roche and Pfizer are heavily dependent on the APIs and solvents from countries such as China and India who have a hegemony on global supply chains. By volume India secures an enviable third position in the manufacture of pharmaceuticals. Cumulatively China and India account for nearly 80% of APIs and solvents that are imported to other regions.
This has huge ramifications amidst the ongoing COVID-19 crisis as the world is looking at these regions for pharmaceuticals if the pandemic is to be contained. India on the back of un-patented generic drugs that are priced low also has a huge network of FDA approved solvent plants that supply nearly 45% of formulations to pharma companies in US. However with wariness towards China setting in, many are now looking closely at India for API and solvent supply on the back of a desire for cost savings and better compliance with environmental regulations.
With solvents playing a nuanced role in novel drug delivery systems, major manufacturers of pharmaceutical solvents are ardently researching product developments that meet exacting pharmaceutical legislations and regulations. Towards this, deep eutectic solvent (DES) is garnering great interest as a green solvent.
Its superior properties such as non-reactivity to water, high solvency and non-inflammability makes it ideal for a large range of solutes. The raw materials used in these are also less toxic and inexpensive thus making them highly suitable for nanoparticle synthesis, drug delivery and as self-assembled drug carriers.
Taxonomy:
By Chemical Group
Alcohol

Ethanol
Isopropanol
Propanol
Propylene Glycol

Amine

Aniline
Diphenylamine
Methylethanolamine
Trimethylamine

Ester

Acetyl Acetate
Ethyl Acetate
Butyl Acetate

Ether

Diethyl Ether
Anisole
Polyethylene Glycol

Chlorinated Solvents

Carbon tetrachloride
Dichloromethane

Others (Chelating Agents, Acetone, glyc
By Region
North America
Latin America
Europe
South Asia
East Asia
Oceania