According to Future Market Insights (FMI) analysis, the 3D printing materials market is anticipated to register growth at 14.0% CAGR between 2021 and 2031. Increasing adoption of additive manufacturing in automotive, electronics, medical, and construction sectors among others will continue driving growth in the 3D printing materials market.
3D printing is a technique for layering a three-dimensional object using a computer-generated design. Raw materials such as plastics, ABS, PLA, metals & powders, carbon fibers, and resins are some commonly used printing materials.
Increasing application of 3D printers to manufacture all kinds of small and large products are also boosting the market. Several countries are nowadays utilizing 3D printing technology for the construction of buildings. Technological advancements registered across various industries will pace way for the growth of the 3D printing materials market.
Regionally, North will continue dominating the 3D printing materials market. Besides this, Europe and East Asia will emerge as chief pockets for growth. As per FMI, East Asia 3D printing materials market will register growth at the highest pace, steered by industrialization in China, Japan, and South Korea.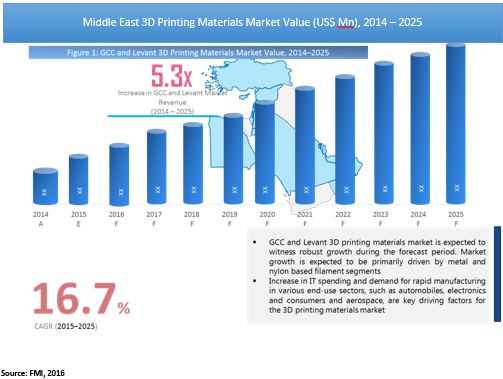 Middle East 3D Printing Materials Market DynamicsGrowth of the Middle East 3D printing materials market is mainly driven by low cost production output along with emergence of new supply chain and retail opportunities in the region. For instance, many e-Retailers are selling 3D printed products online owing to increased demand.

These e-Retailers have minimized supply chain gap between 3D printed product manufacturers and end-users, which is expected to boost overall sales of 3D printing materials. Moreover, setting up of various 3D printing manufacturing units, along with emergence of many 3D printing technology-based start-ups in the region, is expected to bolster overall growth of the industrial manufacturing sector in the Middle East regions.

Transition from conventional printing techniques to 3D printing can help manufacturers cut down overall operational costs by almost 50%.

Also, increasing demand for cost-effective replacement organs in the healthcare sector has led to increasing adoption of 3D printing technology in healthcare applications. In terms of value, the healthcare industry in GCC is expected to expand at a CAGR of 13.4% during the forecast period.

This is expected to create significant demand for 3D printing technology in the region. Though Middle East 3D printing materials market is expected to witness impressive growth in the region, high cost of 3D printing materials is a major cause for concern for overall growth in demand for the 3D printing materials in the region.
Middle East 3D Printing Materials Market Key CountriesThe Middle East 3D printing materials market has been segmented into Middle East regions. GCC region comprises Kingdom of Saudi Arabia (KSA), United Arab Emirates (UAE), Oman, Qatar, Kuwait and Bahrain. Levant region comprises Cyprus, Egypt, Turkey, Israel, Jordan and Rest of Levant countries, which comprises Syria, Palestine and Iraq.

In terms of market value, of all the countries, UAE is expected to remain dominant in the GCC 3D printing materials market throughout the forecast period. Among the Levant countries, Israel is expected to witness highest CAGR of 20.4% in terms of value during the forecast period.
Key Takeaways from 3D Printing Materials Market Study
The global 3D printing materials market is expected to reach a value of US$ 5.14 Bn by the end of the forecast period.
East Asia market will exhibit growth at 14.7% of CAGR during the forecast period due to commercialization of additive manufacturing.
By material type, metals are expected to remain a key segment in the global market of 3D printing materials, registering growth at 13.6% CAGR.
Electronics and consumer industry will continue exhibiting high demand for 3D printing materials.
The U.S. will emerge as the leading market in North America, accounting for over 86% of sales in 2021.
Middle East 3D Printing Materials Market – Key PlayersKey players in the Middle East 3D printing materials market include 3D Systems, Stratasys Ltd., Beijing Tiertime Technology Co., Ltd., ExOne Co., 3D Filament Manufacturing, Coex LLC and MatterHackers Inc.
A large number of players operating in the 3D printing materials market are focused on entering into collaborations and partnerships with local distributors and retailers in order to enhance their market presence in Middle East countries. Moreover, it also enables companies to increase product visibility across the region. Companies are focusing on instilling competitive capabilities to strengthen their market presence in the region.